UK College of Holistic Training
distance learning courses for personal and professional development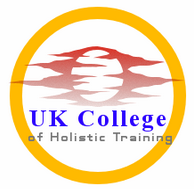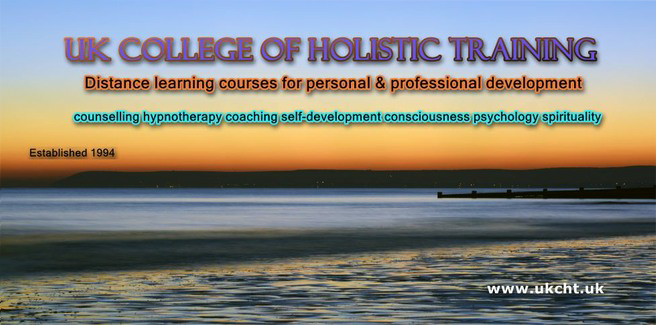 COOKIES
We use cookies to collect information about how visitors use our website. No personally identifiable information is collected. By browsing this site you indicate that you accept the use of cookies.
UK College of Holistic Training, Creedwell House, 32 Creedwell Orchard
TAUNTON, TA4 1JY, U.K.
Email: info@ukcht.net
Tel. 01823 765277
Website copyright © 2022 UK College of Holistic Training. All rights reserved.
See About page for specific acknowledgements.


Total recommended period of study: 2 - 4 months or less. Continuous enrolment. No time limit.
Cost: £235.00 (235 Pounds Sterling - for currency conversion see www.xe.com ) Extra costs & shipping may apply for some non-EU countries - see apply page for details.
A FREE textbook of over 600 pages will be included for students from the UK. Students outside the UK will need to buy the book separately, normally from an Internet bookstore.
Method of study: Distance Learning (Textbook study). Written assignments based on textbooks and exercises. Assignment questions are issued by email and students return their written work by email. Grades and feedback are issued by email.
Diploma in Energy Healing Science
Course overview
This diploma course provides a solid grounding in the theory of energetic healing that underlies various complementary medical approaches and subtle-energy therapies. The course may be used as a professional development course for those who practice complementary medicine and who would like to know more about its underlying theory and relationship to other complementary fields. The course may also be taken by those contemplating training in complementary therapies, especially "energy therapies" to deepen their understanding.
Topics covered include:
Newtonian, Einsteinian and Holographic models,
homeopathy and subtle energy,
the discovery of energy medicine,
human multidimensional anatomy,
evolution of consciousness,
ancient Oriental approaches and subtle medicine,
development of technology,
energy remedies from Nature
(flowers, crystals, vibration, water),
investigation of psychic healing,
crystalline technology and spiritual qualities of crystals,
the chakra system,
holistic medicine and stress,
spiritual growth and evolutionary transformation,
developments in holistic medicine.
Entry criteria and suitability
No particular qualifications are required for entry, but a strong interest in healing and/or complementary therapies is expected. This course can be taken as a preparation for a practitioner course or as a supplement to one.
Qualification
Successful graduates will receive the Diploma in Energy Healing Science awarded by UK College of Holistic Training which is a private UK qualification. Course graduates may use the postnominal designation Dip. E.H.Sc.
Please note that this is a theory course only and it does not lead to a qualification to practise any form of complementary medicine. However a mention of the qualification could enhance your professional profile.
Further information
Please see our FAQs page for general information.
We reserve the right to change the syllabus and other details of any course at any time.

Course textbook:
Gerber, Richard. Vibrational Medicine: The #1 Handbook of Subtle-Energy Therapies. Third edition. Rochester, Vermont, Bear and Company, 2001.
• ISBN-10: 1879181584
• ISBN-13: 978-1879181588


Please note: ensure the book you order has one of the above ISBNs, so that you do not confuse it with another title by the same author.

APPLY FOR THIS COURSE
You may start at any time of year
Click this link to go to our Application page


Understand the rationale behind complementary therapies