UK College of Holistic Training
distance learning courses for personal and professional development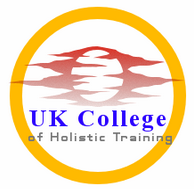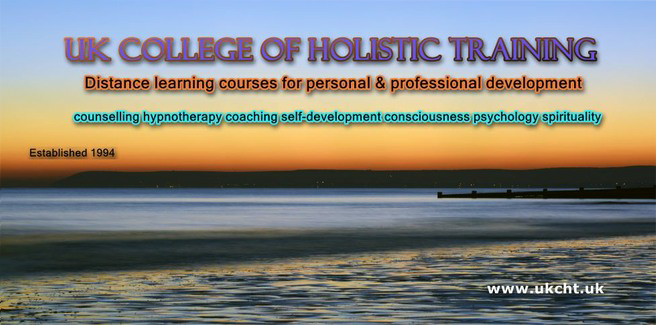 COOKIES
We use cookies to collect information about how visitors use our website. No personally identifiable information is collected. By browsing this site you indicate that you accept the use of cookies.

UK College of Holistic Training, 27 Old Gloucester Street, London WC1N 3AX
Email: info@ukcht.net
Tel. 020 7060 2283 International +44 207 060 2283
Registered with UK Register of Learning Providers no. 10028354
For specific course recognitions see individual course pages

Website copyright © 2020 UK College of Holistic Training. All rights reserved.
See About page for specific acknowledgements.


Advanced Diploma
in Clinical Hypnotherapy
A distance learning advanced course in
NEO-ERICKSONIAN AND MODERN HYPNOTHERAPY
for qualified and experienced practitioners
Total recommended period of study: approx. 6 to 12 months or less. Continuous enrolment. No time limit.
Cost: £295.00 (plus textbooks) for students in UK. Other countries: due to varying tax rules for on-line services, we may have to alter the method of delivery and/or charge a supplementary fee for some countries: please enquire.
Method of study
Distance learning: Textbook study. Written assignments based on textbooks and exercises. Assignment questions are issued by email and students return their written work by email. Grades and feedback are issued by email. Students will need to purchase their own textbooks.
Course introduction
Take your knowledge deeper and deeper… There are many courses called Advanced Diploma in Hypnotherapy or similar on the market at various prices, from quite expensive to very cheap (and not containing much information). This six-module course is priced affordably in the mid-range for the professional still building a practice or for the experienced hypnotherapist wanting to study for an advanced qualification. It follows the pattern of our other successful specialist advanced diplomas for hypnotherapists, using textbooks (which the student purchases), comprehensive guided study plans taking you through each text, and open-book written assignments. Altogether, in this postgraduate-style course, you will have more than 2,000 pages of textbook information, crammed with usable techniques, case histories and guides to theory, probably making this Advanced Diploma more information-rich than any comparable distance learning course. We do not believe any set of in-house course manuals can be as comprehensive. Do not confuse this with a cheap course providing one-twentieth of the content. You will also be learning directly from the texts of renowned experts and not "executive summaries" of their approaches which can contain errors. Our course manual is provided as the key to your textbook study.
Feedback is given on each unit and successful students receive a printed and signed Diploma.
Syllabus:
Unit 1 – Working with Neo-Ericksonian Scripts
Textbook: Havens, Ronald A. and Walters, Catherine. Hypnotherapy Scripts. 2nd edition, Routledge, paperback 2015. (This is the same book as the 2002 hardback second edition.)
Hypnotherapy can allow the unconscious mind to find a way of identifying the source of the pain that presents as the problem, and help the unconscious find its own strategy for resuming normal functioning. A complete plan for conducting sessions is provided in the set text, along with many scripts aimed at particular problems. The scripts, mostly metaphoric, will be useful to the student hypnotherapist and the practitioner seeking additional techniques. The scripts are also seen as possible strategies to use (adapted to the client as necessary) when the minimalistic approach to hypnotherapy outlined in this unit is not sufficient to produce results. Ultimately, understanding how the scripts are used will lead the confident practitioner to be able to create new scripts, metaphors and suggestions on demand.
Unit 2 – Beyond Conflict: Therapy With Our Many Parts
Textbook: Hunter, Roy. Hypnosis for Inner Conflict resolution: Introducing parts therapy. Crown House Publishing, 2005
This unit is a study of "Parts Therapy", an advanced hypnotherapeutic technique that is related to the methods of Ego State Therapy and Voice Dialogue. The pioneer of parts therapy was the leading hypnotherapy instructor Charles Tebbetts. The text for this unit is "Hypnosis for Inner Conflict Resolution" by Roy Hunter, a student of Tebbetts and interpreter of his work who has updated the techniques.
The basic principle of Parts Therapy is that the personality has many parts, or subpersonalities, that roughly correspond to the roles we play in life, plus the many psychological survival strategies we have learned that are active in our subconscious minds. Sometimes inner conflict occurs between two or more parts and thus prevents us from fulfilling a goal or realizing some part of our potential. Parts therapy is a way of communicating with the relevant parts of a client and negotiating with them in order to achieve a positive outcome. During this process the client also gains insight.
Unit 3 – Overview of Neo-Ericksonian Approaches Parts 1 and 2
Textbook: Battino, Rubin and South, Thomas L. Ericksonian Approaches: A Comprehensive Manual. Crown House Publishing, 2nd edition, 2005. 636pp.
This unit presents a comprehensive course in basic and advanced Ericksonian hypnotherapy including some neo-Ericksonian techniques such as the basics of NLP. The course may be used by experienced hypnotherapists as a refresher, a professional development course or as a bridging course for hypnotherapists not primarily trained in an Ericksonian style. Less experienced students will find that the course covers wide ground and will broaden the scope of hypnotherapy beyond basic techniques and introduce advanced applications and topics with clear clinical guidelines.
Topics covered in the course include: history, myths & misconceptions of hypnosis; different induction styles; rapport with NLP; NLP language forms; non-trance hypnotherapy; ideodynamic and ideomotor responses; basic and advanced metaphor; the arts as metaphors; eight-step model; clinical and medical applications of hypnotherapy; dental hypnotherapy (these techniques can also have non-dental applications); hypnosis with special populations; substance abuse; life-challenging diseases; ethics and abuse of hypnotherapy; psychobiology and ultradian rhythms; ideodynamic healing; consciousness and spirit; beyond trance - final observations.
Unit 4 – Advanced Applications of Modern Hypnotherapy and Hypnoanalysis
Textbook: Watts, Terence. Hypnosis: Advanced Techniques of Hypnotherapy and Hypnoanalysis. Network 3000 Publishing, 2005.
This unit is a study of key advanced techniques for hypnotherapists including regression without hypnosis, archetypal parts therapy, parts imagery and virtual world work. Example case studies are provided and there is also helpful information on working with metaphors and useful guides to personality. The key textbook is "Hypnosis: Advanced techniques of Hypnotherapy and Hypnoanalysis" by Terence Watts.
Unit 5 – Integrated Analytical Hypnotherapy
Textbook: Morison, Jacquelyne. Creative Analytical Hypnotherapy. JM Publishing 2016
This module provides a theoretical and practical guide to analytical hypnotherapy, which seeks to guide the client to revisit the roots of distress in past traumatic events, release blocked feelings and provide a resolution of current problems linked to the past. A general understanding of good therapeutic communication skills, the principles of psychodynamic psychotherapy and hypnotherapeutic technique are essential and these are covered in the unit in an accessible fashion with numerous examples.
Unit 6 – Positive Hypnosis: Altered, Mystical and Spiritual States
Textbook: Havens, Ronald A. Self Hypnosis for Cosmic Consciousness: Achieving Altered States, Mystical Experiences and Spiritual Enlightenment. Crown House Publishing 2007
Hypnosis is a consciousness-altering tool. It allows us to enhance our imagination, overcome mental blocks and program our minds for positive change and self-healing. Most hypnotherapy focuses on "problems". Here we present consciousness-altering techniques that focus on positive inner experiences instead.
Materialist-minded professionals have tried to hijack hypnotherapy as purely a medical tool claiming that it has no connection with our spiritual or mystical side. However, such a limitation is as absurd as arguing that the human mind is incapable of appreciating beauty or having spiritual experiences. Since its beginnings, hypnosis has been used to enhance altered states of consciousness leading to psychic and mystical awareness. It is time to reclaim that heritage. The set text author takes a secular stance yet acknowledges the value of this type of work. Even if the therapist or client does not have any "spiritual" belief or experience, the positive states made possible by these techniques can be life-enhancing, stress-reducing and are ideal to complement any clinical hypnosis plan or to promote deep relaxation and self-acceptance before embarking upon more "serious" therapy. Naturally, these techniques can be used by the therapist for their own self-development and well-being.
The unit reviews suitable induction techniques, leading into how hypnosis can facilitate access to mystical states of consciousness such as Cosmic Consciousness, Immersion in Light, Awareness of Perfection, Universal Love and Cosmic Unity. "Enlightenment" is another term used to describe such states. The practice of entering such states can be greatly beneficial to a calm and healthy life and a well-balanced mind. The course discusses the philosophy of suffering and how to overcome it, and detailed scripts are given that can be recorded for self-hypnosis use or used as examples on which you can base scripts of your own or for clients. Using these methods, transformation of consciousness is now achievable by anyone who can enter a hypnotic state.
Entry criteria and suitability
Eligibility: UK students need to have a professional qualification in hypnotherapy, membership of a UK professional hypnotherapy society and at least one year's experience working with clients, or a qualification such as medical doctor, nurse or clinical psychologist with some training in hypnosis.
Non-UK students: please enquire with details of your background and qualifications. You must have an excellent standard of academic English and we may ask you for an English Language test score.
Students who have already completed one of our other Advanced or Professional Diplomas for therapists (e.g. Adv. Dip. In Analytical Hypnotherapy, Adv. Dip. In Transpersonal Hypnotherapy) may be eligible for credit towards this course and a fee reduction of up to 50% – please contact us to enquire.
Qualification
Successful graduates will receive the Advanced Diploma in Clinical Hypnotherapy awarded by UK College of Holistic Training which is a private UK qualification. The course is accredited by the ACCPH, Accredited Counsellors, Coaches, Psychotherapists and Hypnotherapists, and also by IGCT International Guild of Complementary Therapists.
PROFESSIONAL ASSOCIATIONS: The course is accredited by the ACCPH, Accredited Counsellors, Coaches, Psychotherapists and Hypnotherapists. Graduates with the appropriate qualifications in hypnotherapy will be eligible to apply for the basic level of membership. Fully accredited membership will require you to take an approved classroom-based training if you have not already done so. (UKCHT does not provide classroom-based courses).
The course is also accredited by IGCT International Guild of Complementary Therapists.
Further information
Please see our FAQs page for general information. We reserve the right to change the syllabus and other details of any course at any time.